Since my last post things really have started to kick off; The account configuration module is looking a lot tidier and the process of creating per-protocol user interface is greatly simplified. A big thanks to the KDE Usability guys for taking the time to respond to my email.
We had an IRC meeting last Monday where we discussed what was left to be done, and assign tasks and maintainers for the various components.
We now have some-one starting writing a contact list, and we're making lists of outstanding tasks in the other areas, things are starting to shape up nicely.
As it's a blog post, most of you are just here for the obligatory screenshots: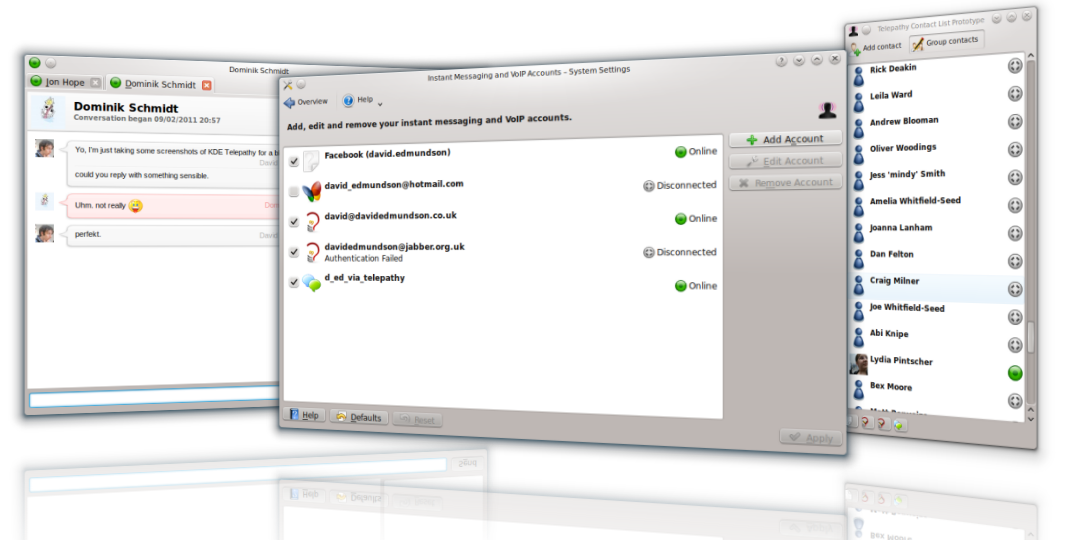 If you saw the same ugly shots from last post, you'll see this is definitely progressing nicely.
FAQ
Will KDE Telepathy support <any protocol here> ?
This is the question I'm asked a lot, and the answer is always the same. "If Telpepathy supports it, then we'll make damn sure KDE has code to support it. If Telepathy doesn't, then there's no point asking us". An incredibly outdated wiki page listing the state is available here: http://telepathy.freedesktop.org/wiki/Protocols%20Support. Google is sometimes a more useful in this regard.
Can I help?
I'm busy writing up some instructions on getting started with a setup. Once that's done (hopefully the end of the week) I'll post to PlanetKDE again. Hold tight!